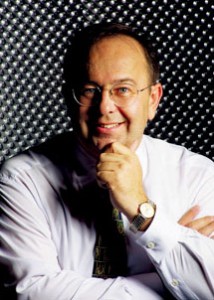 "Big things always start unwittingly"" and so it happened. It happened that sculptor Juraj Čutek exhibited his sculptures in Banská Štiavnica in 1996, and at this time I was looking for responsible artist with feeling for interior design and overall reconstruction of the burgher's mining house. Construction works were completed and this wonderful building needed atypical interior design by its nature. Thus began our first cooperation with Juraj Čutek. To decoration of the house later contributed Vlado Oravec, well known ceramist working in Banská Štiavnica. Team of artists was multiplied largely in proportion to demanding tasks and so Rastislav Trizma, sculptor and Júlia Sabová, textile designer came to help. Very sensitive and artistic interiors attracted attention of Štiavnica residents, such an innovative approach was also praised by the then Mayor Marian Lichner who had a sense of visual art and understood that a bunch of enthusiastic artists can be beneficial for the town in the external representation, heritage renewal and revival of tourism. And he was not wrong.
Besides Štiavnica and Bratislava, I have my third home: Monaco. I began to develop activities to spread good reputation of Slovakia also here.
The most appropriate fetcher of such reference appeared to be an art that fascinates by its wide-range and international clarity. Group Spectrum ART was at that time enriched by two new members, Fedor Nemec, a photographer and Ivan Pavlov, a painter. In the period of years 1998-1999, the community embarked on solving further two historic interiors in the old town of Bratislava in the spirit of Art Nouveau . Mutual trust and cooperation of the crafts within the group encouraged me so I decided to transfer that atmosphere of the premises as a single exhibition to the "Foire International de Monaco", to be held in October 1999. Róbert Němeček was invited to the community, as an architect and graphic designer of the accompanying catalogue. Exhibiting in prestigious Monaco was a bold decision, as Slovakia was at that time unknown to developed Europe, almost an isolated country and the only possible export product except of beautiful Slovak women, represented in France by Adriena Sklenaříková, was art.
Well coordinated team of artists but also craft carpenters proved to convince Monaco residents on the capabilities and discipline of Slovaks in a very short time. They have managed to create an atmosphere that pleasantly surprised visitors of trade fair in a separate pavilion with atypical area of more than 260 m2. Presentation of Slovakia through art artifacts, by projections on large screens and rich, informative catalog was surprisingly powerful and also HM Prince Albert Grimaldi devoted unprecedented attention to the exhibits. He praised the level of pavilion in an informal conversation with artists, which as he said, increased the overall level of the fair. HE General honorary consul of Slovak Republic in Monaco, Cristina Noghés-Menio, stated request to exhibit again in 2000 and 2001. Slovak pavilion was the jewel in the coming years of the fair, among the visitors appeared Slovaks who live in France and who got a good rumor about the exhibition and did not hesitate to travel from Paris to see the success of the compatriots. The result was acceptance of an official invitation of HM Prince Albert to visit Slovakia. On this occasion, our group of artists set the area of the club S.A.M.C. in Panská Street 4 which HM Prince Albert put into operation on 28.5.2002. His Highness later except of the official program in Bratislava participated also in the meeting with the Mayor of Banská Štiavnica and expressed support for Slovak – Monaco relationship.
I have seriously accepted an appeal for the organization of the Central Pavilion of Slovak official presentation at the 14th international trade fair in Monaco in 2002. In October 2002 thus opened the gates of the fair with the participation of HE Rudolf Schuster, President of the Slovakia and HM Prince Albert Grimaldi with central Slovak exposition. A complex presentation of Slovakia on the area over 360 m2, with the Slovak restaurant and Folk Art (ÚĽUV) shop, got a new dimension with the support of the President of Slovakia, the Slovak Chamber of Commerce, SARIO agency and Slovak Ministry of Economy. Accompanying events, such as concerts, fashion shows, wine tasting, possibility to purchase books, products of Folk Art (ÚĽUV), philately and numismatics created the core of the exhibition-presentation of Slovak art. Such an unprecedentedly grand exhibition concluded several years of my efforts to draw positive attention to Slovakia within the francophone world. As indication of trust and respect and at the initiative of Chairman of the Parliament Stephane Valéri, in 2004 granted Parliament of Principality of Monaco commemorative plaque to Community Spectrum ART and to Club S.A.M.C. Group Spectrum ART however did not rest on oars and in 2004 completed the interior of historic café Štefánka in the spirit of the Austro-Hungary nostalgia and gave back original character to this area after 10 years, on 18th May 2005.
Nor the presentations in Monaco stopped, as we have accepted an invitation to exhibit in 2002 and 2003 in the representative premises of Grimaldi Forum in Monte Carlo on prestigious International art and antiques fair. In this period is being created folklore section of Spectrum ART, led by Janko Petrenka, well known folklorist, Ján Palovič and Juraj Pecník, that invests considerable energy and resources on creating art program "Mountain Parade" (Vrchárska paráda) presented in folklore festivals in Východná, Detva, Terchová and Hrušov. Broad-ranged, independent one and half hour long program later becomes supporting part of the newly established festival Štiavnický Tajch (2005). Spectrum ART presented picturesque Detva original folklore also to Bratislava audience on two years of "Evening of Slovak Folklore" (Večer slovenského folklóru) in 2004 and 2007.
Art section meanwhile participated on the Exhibition of Spectrum ART artists in Prague in autumn 2003 and at VI. International Art Fair of 3 countries – ART 2005 in Bratislava. A rich work of art section Spectrum ART frames also partial participation of artists on many events at home and abroad. The most interesting is multiple participation in symposiums OLŠANY COLOR on the farm of Bolek Polívka, or participation on sculpture symposiums in Banská Štiavnica and Prievidza. Artists alternately expose also abroad, in the Netherlands (Kunst-RAI, Amsterdam, Holland Art Fair Hague), Germany, Italy, France and Israel. Folklorists led by Juraj Pecník chase the program of Mountain parade and are presented on CDs and DVDs. Community Spectrum ART also carefully observes the anniversary years of its older members, supporters and guests. During this period, had sequentially anniversaries : Rudolf Schuster, Kamil Peteraj, Rinaldo Oláh, Ján Berky-Mrenica Sr., Ján Berky-Mrenica Jr., Juraj Kubánka, Ján Petrenka, Ján Palovič and last but not least Tibor Bártfay, doyen of the group. Each year is filled with many sponsorship activities of events. Among these are traditional Cyril and Methodius days in Terchová, Štiavnica cultural summer or Chess championship in Banská Štiavnica.
Community supports producing of publications, catalogs, art calendars and CDs but also preparation of events, concerts, exhibitions and symposiums. Among the related music artists belong Pavol Hammel, Peter Fiala, Lucia Lužinská, Miky Škuta, Ján Berky Mrenica Jr., band HEX, and Slovak Folk Art Ensemble (SĽUK) and Lúčnica. Community Spectrum Art also cooperates with leading organizations such as the EKS (European Cultural Community), Gallery NOVA in Bratislava, the Museum of modern Art DANUBIANA and the Museum of Milan Dobeš in Bratislava. Our ten-year complex effort to develop and promote art concluded jubilee exhibition of Spectrum ART 1997 – 2007 in October 2007 on the 19th International trade fair in Monaco.
Dear friends, I hope that our association with its activities, at least partly moved wheel of Slovak modern history and left behind footprint for future generations by its opinion-leading and creative attitude. Spectrum ART is broad spectral association, without prejudices, without distinction of political orientation with open arms for artists, performers, musicians, folklorists and writers who have decided to increase cultural and social credit of Slovakia.
Dušan Kollár,
President of Spectrum ART Association in own hand