Tibor Bártfay- doyen of the group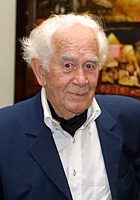 He was born on 12. 5. 1922 in Nitra. He is the son of famous sculptor Július Bártfay who is together with J. Koniarek considered as co-founder of modern Slovak sculpture. He was a student of Professor F. Sidló at the Budapest Academy of Fine Arts and of Professor K. Pokorný at the Academy of Fine Arts in Prague. His thematically and stylishly multilateral work includes portraits, intimate, free and monumental plastic art. He created about 30 monuments, more than two thousand plastic arts and about six hundred portraits, many medals and reliefs. He is also devoted to drawing and collages making. He is undoubtedly the most universal Slovak living sculptor who overcame also  grudging times of normalization by his arty way. His open attitude to life is a model for all of us and so we asked him with love to become a doyen of our Association.
Ignác Bizmayer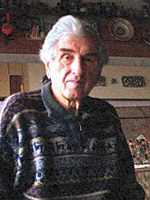 Ignác was born on 20. 4. 1922 in Košolná. He grew up in Hutterite yard in his native village. He studied at the Ceramics School Modra and worked as an artistic director of the world-famous Slovak ceramics in Modra for many years. The focus of his work program was figurative ceramics in which the predominant themes were rural, Jánošík tradition and folk practices. A part of his work is decorative utility ceramics. A work of I. Bizmayer gave a new life to old Hutterite traditions and demonstrated its power also during a busy period of post-modernism. His work attracted deserved attention and acclaim at many national and international exhibitions. President of Slovak Republic granted to Ignác Bizmayer state award Pribina´s Cross I. Instance for the considerable merits of fine art and figurative work. Maestro Bizmayer was a frequent guest in our club and also participated in many trips to Banská Štiavnica.
Milan Dobeš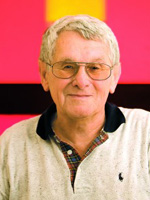 He was born on 29. 7. 1929 in Přerov, Moravia. After graduating in Český Těšín studied at the Academy of Fine Arts and Design in Bratislava under Ladislav Čemický and Bedřich Hofstädter and scenery under Dezider Milly. He participated in interships abroad: Vienna, Paris, London and New York. Since 1960, he has created a visual kinetic and light objects and became an important Slovak sculptor and graphic artist dealing with kinetic art. He exhibited in Krakow, Kassel, Eindhoven, Nuremberg, Helsinki but mainly in Osaka in the world exhibition EXPO 70. At the time of socialist realism were his efforts for purity and kinesic rather misunderstood. He received appreciation later, especially by establishing of Milan Dobeš Museum in Bratislava where are more than 200 of his exhibits at three floors. Association Spectrum ART works with the founder of the museum: EKS Foundation. Milan Dobeš participates in our meetings as an artist-senior.
Ján Kulich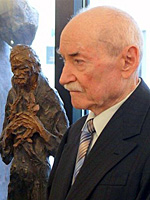 He was born on 30. 12. 1930 in Zvolenská Slatina. His considerable talent showed soon. He studied at the Academy of Fine Arts in Prague from 1946-51, Department of Sculpture led by prof. O. Španiel. He completed postgraduate at the Academy of Fine Arts in Bratislava in the years 1951-1954. Later, he was a rector of the Academy until 1989. He is a representative of realistic-formalistic line in the Slovak sculpture, while in his initial work, he mainly drew from folk motifs. He is a national artist and is unquestionably one of the biggest Slovak sculptors but during the normalization he became a victim of the epoch, when he was politically involved in order to create and particularly implement his monumental works. He was devoted to intimate, and monumental, memorial works, medal making and drawing during his creative period. Our community has accepted maestro Kulich without political bias, focusing on his talent and work performed.
Marián Lichner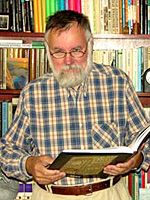 Writer, photographer, ex-mayor of BŠ was born on 14. 10. 1949. He served as mayor of Banská Štiavnica continuously for four election cycles, from 1990 to 2006. He was behind the listing of Banská Štiavnica and surrounding technical monuments on the list of World Cultural Heritage Unesco, great development of education and culture in Banská Štiavnica. He tragically died in September 2007. Banská Štiavnica but also Slovakia lost a noble and accomplished man. He participated as an author in many publications on Banská Štiavnica. He was also a sensitive photographer, especially charmed by Banská Štiavnica surrounding. He organized and was chairman of many solo exhibitions and competitions e.g. Competition NDF (Best Holiday Photo). In his most famous publication, the Existence, he analyses the benefits of natural and social sciences and the world's major religions as a system based on dual principle, in relations of options and facts. Marián Lichner took as a mayor patronage over all Spectrum ART events in Banská Štiavnica.
Rút Lichnerová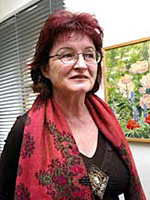 A writer and gallerist, wife of Marián Lichner, was born on 12. 1. 1951 in Martin. In 1969-1974 studied Slovak and aesthetics at Comenius University, Faculty of arts in Bratislava. After graduation she worked as a theorist of art in the Regional Gallery in Banská Bystrica, later in the Cultural Centre also there. She was a manager of the Gallery of Jozef Kollár in Banská Štiavnica since 1991. She debuted with book of short stories "In Kremnisko" (V Kremnisku) in 1989. After it, she published a novelette Šahíziho tabíja and a book Blind Fish, one of the gold jewelry of postmodern Slovak literature. She published monograph of Jozef Kollár in 1996 and a successful title River-story of white, pink and turquoise in 2000. Her other work is called Anna Regina, this book was awarded Book of the Year in readers poll of Book revue (Knižná revue) and was nominated for a Anasoft Litera the 2006. The author also deals with the theory of art. She, as a curator prepared and implemented a number of exhibitions. She acts in the gallery cooperation within our association.
Milan Stano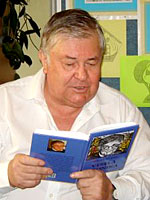 He was born in Kálnica in Nové Mesto nad Váhom. He is a graduate of Secondary school of Applied Arts (1964-1968). Milan is known cartoonist, graphic artist, painter but recently humorist and writer. He has traveled a great deal of the world during his life's journey, he worked in many countries from which he brought not only many beautiful experiences but also drawings, prints and oil paintings. Yet he regularly returns to his native country of middle Považie. He became a director of the independent publisher Studio of humor and satire (Štúdia humoru a satiry) – ŠHS in 1990. He collected, high-quality original ethnographic material for decades which he used in his stories. He captured and brought closer the stories to the reader, thus preserving the jewels of our nation for future generations, forever not to be forfeited and lost in a large boiling pot of present European events. His studio has so far printed more than 40 books, many with support from the Association Spectrum ART.
Arpád Račko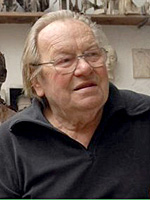 Academic sculptor Arpád Račko was born on 17. 7. 1930, in Szolnok (Hungary), though he is a Slovak sculptor. After graduating from the Grammar school in Košice, he studied at the Academy of Fine Arts in Prague, under Professor Jan Lauda. He graduated in 1957. He was influenced by the work of Czech sculptor Josef Václav Myslbek and Jan Štursa. He concentrated mainly on the artistic use of expressive possibilities of the metal. Račko created dozens of sculptures, sculptural groups, plastic arts, portraits and reliefs. He focused more on implementation related to architecture. Among the most famous in Košice belong sculpture of Marathoner on the Square of Peace Marathon, which was created in 1959 and the coat of arms of Košice statue from the year 2002. Arpád Račko is a close friend of Rudolf Schuster who brought him to our club.
Stanislav Szomolányi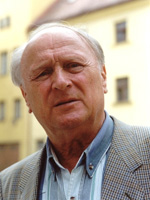 Slovak cameraman was born on 14. 1. 1935 in Bánovce nad Bebravou. In 1950-1953 he studied at the Grammar school in Topoľčany and later graduated from FAMU in Prague for the art camera (1958). He initiated many legendary Slovak films (Slnko v sieti, Panna zázračnica, Organ, etc..) He also cooperated with legendary directors Štefan Uhro, Stanislav Barabáš, Martin Hollý, Peter Solan, Juraj Jakubisko. Stanislav Szolományi has acted as well as a university teacher at the VŠMU since 1974 and founded the University Department of camera in 1991, which he led. He is a member of the Association of Slovak cameramen. Films, in which was the cameraman Stanislav Szolományi, belong to the Fund of Slovak cinematography. He was given several awards for his work at various national and international festivals. He is a friend of community Spectrum ART, as a reputable expert on filmmaking.